Rate compliance
It can be tempting to adjust a rate for a prospect when you have a performance goal to hit. Aline reduces revenue loss with centralized controls and workflow approvals around all aspects of revenue management. You can set the system to put variance thresholds around approved rates, so your sales team knows how much, if any, room there is for negotiation.
Aline will automatically send a request to approve any special rental rates or discounts that fall outside of the pre-approved rate variance, helping to proactively manage revenue and occupancy.
Reservations and leasing
Once a unit is reserved, Aline notifies staff who may need to follow up with the new resident to conduct a care assessment or financial verification. Lease documents and care plans are automatically generated, saving your staff time and eliminating errors in important details. Through the Aline integration with DocuSign, lease agreements and other important documents can be sent, signed, and securely returned directly from Aline.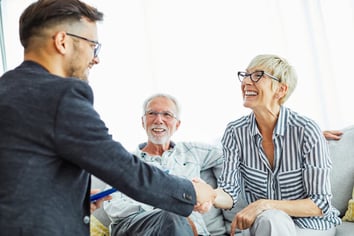 Resident billing and payments
Integrated billing ensures you collect all available revenue. The Aline Revenue solution connects billing to care, so you can capture and bill residents accurately, including all unscheduled tasks and additional time delivered by your care team. The Aline integration with CareGrove shortens your revenue cycles by making it easy for residents and families to pay their bills through a secure online payment portal. This integrated service not only provides a better experience for your customers, but also increases the speed at which you receive payment. Aline provides a modern senior CRM solution with integrated rate management, leasing, and billing via the Aline Revenue solution to help you achieve your revenue and occupancy goals faster.
In an article published by Senior Living Foresight, Holiday Retirement made the switch to Aline's CRM earlier this year, and the results in the first month alone were impressive:
Move-ins jumped 17% from January to February
Total tours increased by 10.7%
New-inquiry-to-tour improved by 4%
Tour-to-move-in moved up 2%
Most importantly, inquiry-to-move-in improved by a full 1%
To learn more about how Aline can help your senior living community achieve an even higher level of performance, schedule a demo today.
Related Content
Blogs, stories and studies from the forefront of senior living operations